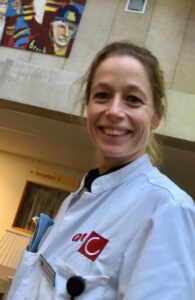 Marleen van de Sande, M.D., PhD
Rheumatologist at the Department of Rheumatology and Clinical Immunology at the Amsterdam UMC location AMC
Dr. Marleen van de Sande is a clinical and translational scientist with a specific focus on the immunopathogenesis of the earliest phases of spondyloarthritis.

She received her MD degree from the University of Amsterdam in the Netherlands.
After graduating the she started her PhD training at the department of Clinical Immunology and Rheumatology at the AMC/University of Amsterdam. During her PhD she gained extensive experience in synovial tissue biopsy sampling and studying joint inflammation by DCE-MRI. In 2012 dr. van de Sande successfully defended her thesis entitled "Clinical and molecular classification of very early arthritis patients". From 2009-2016 she did her rheumatology specialty training at the AMC. Since 2016 she works as a rheumatologist at the Department of Rheumatology and Clinical Immunology at the Amsterdam UMC, location AMC.
Since 2016 dr. van de Sande has been appointed head of the spondyloarthritis clinical trial team. In her current function she is a principal investigator in several clinical trials and cohort studies and involved in national and international research projects. Dr. van de Sande has started a research line studying the clinical and molecular features of the pre-clinical phase of spondyoarthritis, before the disease becomes clinically manifest, in which she combines state of the art immunological studies in a human at risk cohort with the HLA-B27 transgenic rat model resembling human spondyloarthritis.
Keywords: spondyloarthritis, animal models, pre-SpA cohort