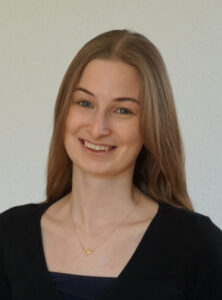 Chiara Geyer
ESR 16- Metabolic reprogramming of human myeloid immune cells during chronic inflammation
Chiara Geyer was born on the 5th of April 1994 in Herdecke in Germany. After finishing her school education at the Schiller Gymnasium in Witten (2013) she started studying Biochemistry at the Eberhard Karls Universität of Tübingen. In her Bachelor thesis in the group of Prof. Dr. Michael Schindler at the University Hospital of Tübingen (2016), she focused on contribution of surface receptor CD96 as well as the immune evasion through SAMHD1 during HIV-1 infection.
After graduating with a Bachelor of Science in 2016, she gained more practical experience in the field of virology by working as a research assistant in the laboratory of Prof. Dr. Michael Schindler at the University Hospital of Tübingen, where she investigated the interaction of the HCV Core with a synthetic compound (2016). Chiara further broadened her experimental experience by moving to Sweden for a seven-months internship at Karolinska Institutet in the group of Assistant Professor Dr. Lisa Westerberg (2017). During her time in Stockholm she investigated the role of overactive Wiskott-Aldrich Syndrome Protein in neutrophils during X-linked neutropenia (XLN) disease progression. By development of a new Western Blot based assay she was able to show that XLN-derived neutrophil cells are characterized by constant phosphorylation of the critical residue Y293.
In 2017 Chiara began her master's studies in Biochemistry with the focal point Molecular Medicine at the University of Bochum. For her master research project, she looked beyond university research groups and proceeded her studies at the Department of Microbiology, Tumor and Cell Biology (MTC) at the Karolinska Institutet Stockholm. To further understand the disease mechanisms of X-linked neutropenia, she worked with two mouse models carrying the overactive WASP mutations XLN L272P and I296T to unravel the mechanisms of altered plasma cell outcome occurring in association with the primary immune disease XLN.
Following her graduation in 2019 Chiara started a five-month company internship at Roche in Penzberg, where she optimized B-cell isolation techniques and culture.
For her PhD in the ARCAID program, Chiara joined the group of Assistant Professor Dr. Jeroen den Dunnen to investigate molecular mechanisms by which Fc-Receptors contribute to the HIV-1 reservoir formation to identify new possibilities for therapeutic targeting.