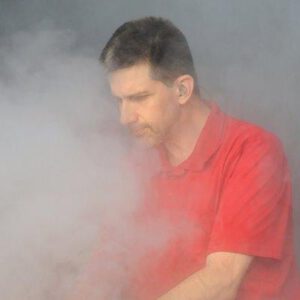 Prof. dr. Antoine van Kampen
Professor Medical Bionformatics at the Academic Medical (AMC) Center, Amsterdam. My research focuses on bioinformatics and systems medicine.
Antoine van Kampen has a background in chemometrics. He did his PhD research at the Radboud University Nijmegen (The applicability of genetic algorithms to complex optimization problems in chemistry). Subsequently, he moved to the Academic Medical Center (AMC) of the University of Amsterdam (UvA) in 1997 where he got involved in bioinformatics. Currently, he heads the Bioinformatics Laboratory and is responsible for the AMC bioinformatics core facility that provides support to AMC research groups with respect to the data analysis of next generation sequencing (WGS/WES), DNA microarrays, metabolomics, SNP, and epigenetics data. He holds the chair Medical Bioinformatics at the Faculty of Medicine of the AMC. He collaborates with the Biosystems Data Analysis group (UvA) where he is hosted for one day per week. Van Kampen was scientific director of the Netherlands Bioinformatics Center (NBIC) from 2006 – 2010. His primary research comprises Systems Genomics and Systems Medicine. Recently, he developed a special interest in the analysis (e.g. repertoire sequencing) and mathematical modelling of immune responses. He is involved in the Marie Curie project EpiPredict that focuses on endocrine therapy resistance in breast cancer. Finally, he is involved in a many bioinformatics and systems biology teaching activities including the medical informatics program (AMC), AMC Graduate School, biomedical sciences (SILS), computational sciences (Institute for Informatics, UvA), and Bioinformatics and Systems Biology (VU University Amsterdam).
Selected Publications
Reshetova P, van Schaik BD, Klarenbeek PL, Doorenspleet ME, Esveldt RE, Tak PP, Guikema JE, de Vries N, van Kampen AH. (2017) Computational Model Reveals Limited Correlation between Germinal Center B-Cell Subclone Abundancy and Affinity: Implications for Repertoire Sequencing. Front Immunol., 8, 221.
Te Velde AA, Bezema T, van Kampen AH, Kraneveld AD, 't Hart BA, van Middendorp H, Hack EC, van Montfrans JM, Belzer C, Jans-Beken L, Pieters RH, Knipping K, Huber M, Boots AM, Garssen J, Radstake TR, Evers AW, Prakken BJ, Joosten I. (2016) Embracing Complexity beyond Systems Medicine: A New Approach to Chronic Immune Disorders. Front Immunol.,7, 587.
Willemsen AM, Hendrickx DM, Hoefsloot HC, Hendriks MM, Wahl SA, Teusink B, Smilde AK, van Kampen AH. (2015) MetDFBA: incorporating time-resolved metabolomics measurements into dynamic flux balance analysis. Mol Biosyst., 11(1):137-45.
Stobbe MD, Jansen GA, Moerland PD, van Kampen AH (2014) Knowledge representation in metabolic pathway databases. Briefings in Bioinformatics 15 (3):455-470
van Schaik B, Klarenbeek P, Doorenspleet M, van Kampen A, Moody DB, de Vries N, Van Rhijn I. (2014) Discovery of Invariant T Cells by Next-Generation Sequencing of the Human TCR α-Chain Repertoire. J Immunol., 193(10):5338-44.
Van Houdt JK, Nowakowska BA, Sousa SB, van Schaik BD, Seuntjens E, Avonce N, Sifrim A, Abdul-Rahman OA, van den Boogaard MJ, Bottani A, Castori M, Cormier-Daire V, Deardorff MA, Filges I, Fryer A, Fryns JP, Gana S, Garavelli L, Gillessen-Kaesbach G, Hall BD, Horn D, Huylebroeck D, Klapecki J, Krajewska-Walasek M, Kuechler A, Lines MA, Maas S, Macdermot KD, McKee S, Magee A, de Man SA, Moreau Y, Morice-Picard F, Obersztyn E, Pilch J, Rosser E, Shannon N, Stolte-Dijkstra I, Van Dijck P, Vilain C, Vogels A, Wakeling E, Wieczorek D, Wilson L, Zuffardi O, van Kampen AH, Devriendt K, Hennekam R, Vermeesch JR. (2012) Heterozygous missense mutations in SMARCA2 cause Nicolaides-Baraitser syndrome. Nature Genetics, 44(4), 445-9. (IF2010: 36.377)