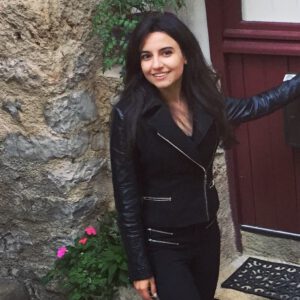 Sona Allahverdiyeva
ESR 15- Uncovering how HIV hides in immune cells: metabolic reprogramming of CD4 T cells during infection
My name is Sona. I am from Azerbaijan. After my graduation from the Faculty of Biology of Baku State University, I performed a 4-month voluntary internship in the clinical laboratory of the "Bioloji Tebabet" hospital. During this internship, I became interested in virology and decided to continue my studies in this field in one of the prestigious universities, specialized in infectiology and immunology, in Europe: Montpellier University. My choice fell on France because, in Azerbaijan, I developed a great interest in the French culture and language. I started to learn French intensively and I passed an exam and qualified for a French Ambassador scholarship from Baku to continue my studies at Montpellier University in 2016.
In July 2019, I received my Master's degree from the Faculty of Biology and Health Sciences in Microbiology and Immunology at the University of Montpellier. During my Master I did three different internships in the field of virology, cell biology, and molecular biology.
I did my first two-month internship in France in Dr. Tuaillon's lab: "Pathogenesis and control of chronic infections". Here, I worked on the development and validation of a test for the detection and quantification of Hepatitis B virus HBeAg on dried blood samples collected on blotting paper.
I did my second internship (6 months) in Dr. J-L. Battini's lab: "RNA viruses and metabolism" at the IRIM (Institut de Recherche en Infectiologie de Montpellier). My subject was about the phosphate metabolism and protein-protein interactions that regulate this mechanism.
For my Master 2 internship (6 months), I joined Dr. C. Goujon's team: "Interferon and antiviral restriction". My research project in this lab consisted of the validation of a haploid genetic screen employed to find the functional cellular co-factors of the MX2 (Myxovirus resistance protein 2) antiviral protein in the context of HIV-1 infection. This project realized in collaboration with Dr. V. Courgnaud from the Institute of Molecular Genetics of Montpellier (IGMM).
From the 1st of October, I started work (3 months) at the Academic Medical Center (AMC) in Amsterdam, as a scientific researcher in the team of Prof. dr. B. Berkhout.
From January 2020, I started my PhD at AMC. My project is the collaboration between the two departments: Experimental virology and Experimental immunology. I will work on " Expression of CD32a on the surface of CD4 + T cells – as a marker for the HIV-1 reservoir " under the supervision of Jeroen den Dunnen and Ben Berkhout.
Outside the lab, I am a positive, rigorous and passionate person. I can speak 5 languages (English, French, Turkish, Russian and Azerbaijani) which help me integrate into many social situations. I love to travel, discover new places and meet new people and new cultures.